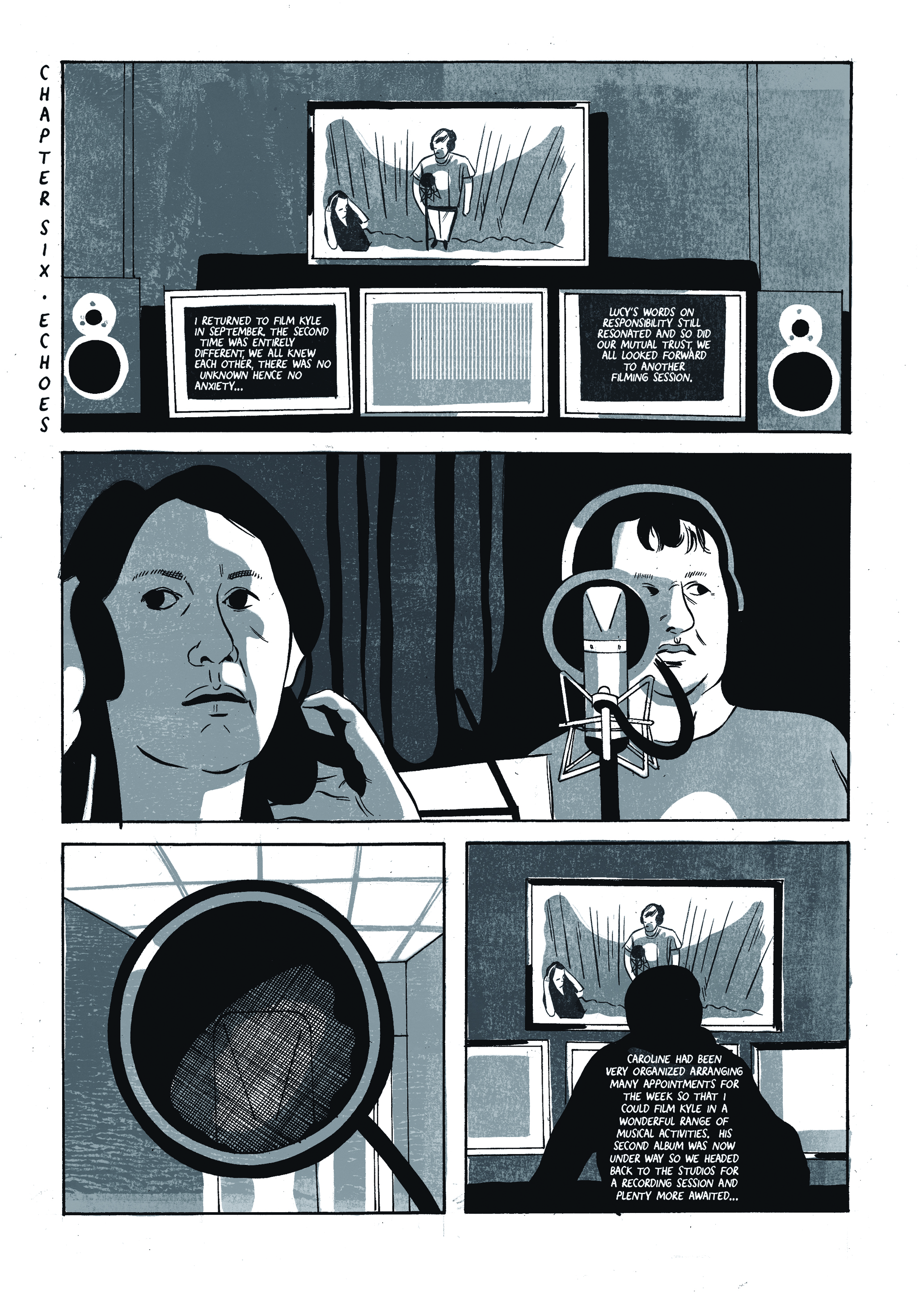 Images above from 'Yes!', Laura Malacart & Daniel Locke, 2014
© LAURA MALACART
'YES!' Based on a True Story of 'Non-Verbal' Autism By Laura Malacart and illustrated by Daniel Locke, 2014
Laura Malacart, a cross-disciplinary visual artist, developed a multi-media project built around the portrait of a 27-year-old 'non-verbal' autistic man. In spite of his lack of language, Kyle had found a 'voice' through music: Laura Malacart's work was focussed on the political identity of his 'non-verbal voice' as well as exploring the complexity of his physical voice in his multifaceted expressions.
Laura commissioned Daniel Locke to make the drawings for a 6-chapter graphic story to be experienced alongside a non-narrative video work called Onomatopoeia. He drew the story 'YES!' on the basis of her documentary video and photographic material, and her script reports verbatim conversations collected during months of filming her subjects. For the launch of the event a limited edition of the story on tabloid format was published, since Laura first learned about Kyle from a tabloid clipping.
To see the graphic story blog click here
Listen to an interview with Daniel Locke & Laura Malacart talking about 'Yes!' with Alex Fitch, Panel Borders
The project was authored and produced by Laura Malacart with illustrations by Daniel Locke.
YES! was funded by the Arts Council of England and the Wellcome Trust.
Images of the launch of 'Yes!', Daniel Locke & Laura Malcart, London